Lawrence and Doris Handlos, Waspy's Truck Stop Wins Spirit of Excellence Award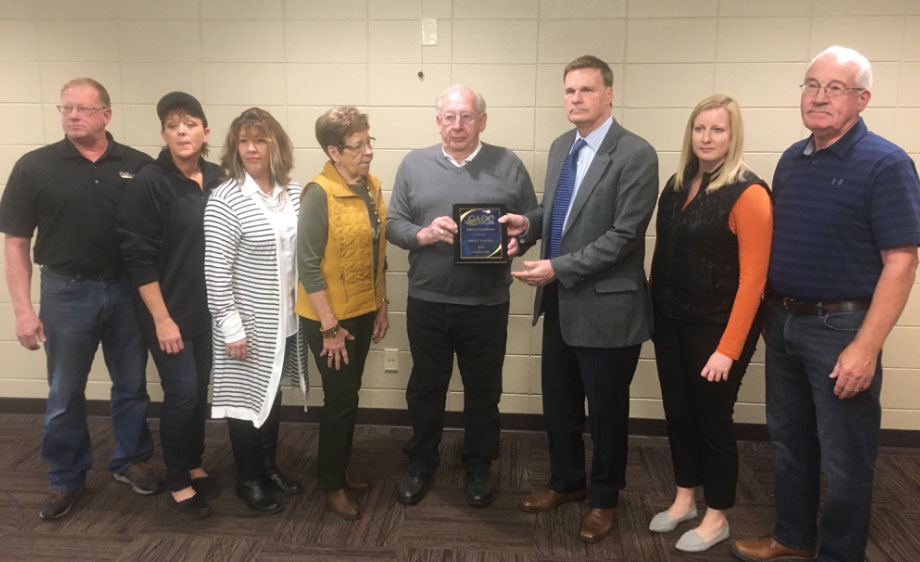 Carroll Area Development Corporation presented Lawrence and Doris Handlos, Waspy's Truck Stop with The Spirit of Excellence award on November 5, 2019. The Spirit of Excellence award recognizes Carroll County businesses that invest resources in projects that result in a larger property tax base and additional quality jobs in Carroll County.
The family-owned and operated Waspy's Truck Stop is under the ownership and leadership of Lawrence "Waspy" and Doris (Quandt) Handlos, including their son, Brian Handlos (CEO), daughter Beth Handlos Wahlert (COO) and daughter-in-law Pat Handlos (Director of Operations). They have invested more than $7 million to create Waspy's Truck Stop on 6.3 acres in Templeton located on South Rye Avenue. The truck stop currently has 19 staff at this location.
Lawrence and Doris were born and raised in Willey in Carroll County and the Handlos family has farmed in the area for years and responded to the community's need for a truck stop, but also to serve the thousands of vehicles that pass by on Highway 141 or for those who journey to town to visit Templeton Rye.
The facility provides a beautiful convenience store that includes their Grab & Go Kitchen with a generous menu (that includes hand-cut tenderloins, hand-breaded broasted chicken, half pound burgers, hot beef and more), a large seating area, coffee bar, bakery & grocery items, walk-in beer cave, spirits den & cigar humidor, multiple fuel options, car wash, state-of the-art surveillance cameras for security on the complex, ample and wide parking spots for vehicles, semi trucks/trailers and the town's infamous golf carts.
Businesses like Waspy's keep the Carroll County economy vibrant, providing opportunity for employment, strong business partnerships and essential community involvement. Carroll Area Development Corporation is proud of Waspy's and the Handlos Family and appreciates their investment in Carroll County!
For more information contact:
Shannon Landauer, CEcD
Executive Director
Carroll Area Development Corporation
712-792-4383 Fax: 712-792-4384
cadc@carrolliowa.com
www.carrollareadev.com