Templeton Rye Adapts to COVID-19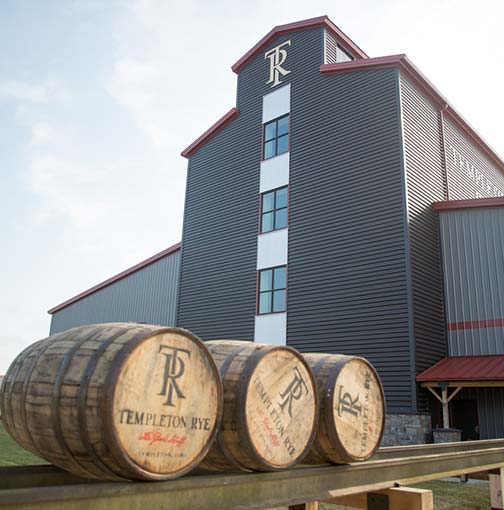 There is never a good time for a pandemic to invade a community. But for Templeton Rye Spirits, the timing of the COVID-19 crisis could not have been worse.
"We had to temporarily close our Visitor Center, as we were just getting ready to ramp up for our busy season where we host up to 400 visitors in a week," said Chase Prebeck, Templeton's Hospitality Manager. "Not only did this impact our general weekly and monthly business, but it affected our part time employees that worked in the Visitor Center."
But over the past weeks, the producer of high-caliber rye whiskey in Templeton, Iowa has learned to continue production while, at the same time, turning a focus to helping others.
Adapting to the crisis
Standard production for Templeton Rye includes a full distillery with distilling, barreling and bottling whiskey operations. With the Visitor Center closed, the only people coming and going from the facility are workers as that production has continued. Therefore, the company has had to take steps to maintain a safe work environment while keeping production online.
"We have taken a number of different steps across the business to ensure the safety of our employees, their families and everyone in the community," said Prebeck. "We are following CDC guidelines, like cleaning work surfaces daily, providing hand sanitizer across all facilities for employees to use throughout the day and keeping proper social distancing in the workplace."
In addition to standard operations, the company decided to send reverse osmosis water to Mitchellville to make hand sanitizer as part of a state of Iowa program. Templeton Rye is providing the water free of charge for sanitizer to be distributed to Iowa Homeland Security and Emergency Management and county Emergency Medical Services throughout the state.
Carroll helps businesses
Prebeck said the Carroll County area has been a great resource, supporting responsible practices to allow local companies to keep production moving forward. And the company is thankful to be in an area where people take the crisis very seriously, following all of the different measures to keep everyone safe.
"The Carroll Chamber of Commerce has reached out to let us know about a number of different resources but we have not needed to utilize them just yet, as we have been pretty self-sufficient at our facility so far," said Prebeck. "Being in a community like Carroll ensures we don't have to skip a beat in production and bottling while working in a safe and clean environment."
Ready for visitors
Templeton Rye knows things will not go completely back to normal in the near future, adapting with the new conditions and guidelines required. The company believes operations will resume close to pre-crisis status at some point in the next year. It now plans to reopen the Visitor Center on June 24 and will be open Wednesdays through Saturdays, from 8:30a.m. to 5:00p.m. and is committed to doing so with a safe environment for all visitors. Tours will be available at 9:00a.m., 11:00a.m., 1:00p.m. and 3:00p.m. Prebeck said there are some new whiskeys they had planned to release this year. They are especially excited to introduce a 10-year Corn Whiskey when they reopen their doors. The small amount of the unique one-time release will only be available in the Visitor Center.
"We can't wait to reopen our doors to the public and hope to see everyone soon," said Prebeck. "In the meantime, stay safe and stay healthy!"