Carroll County, IA Area Communities
Manning, Iowa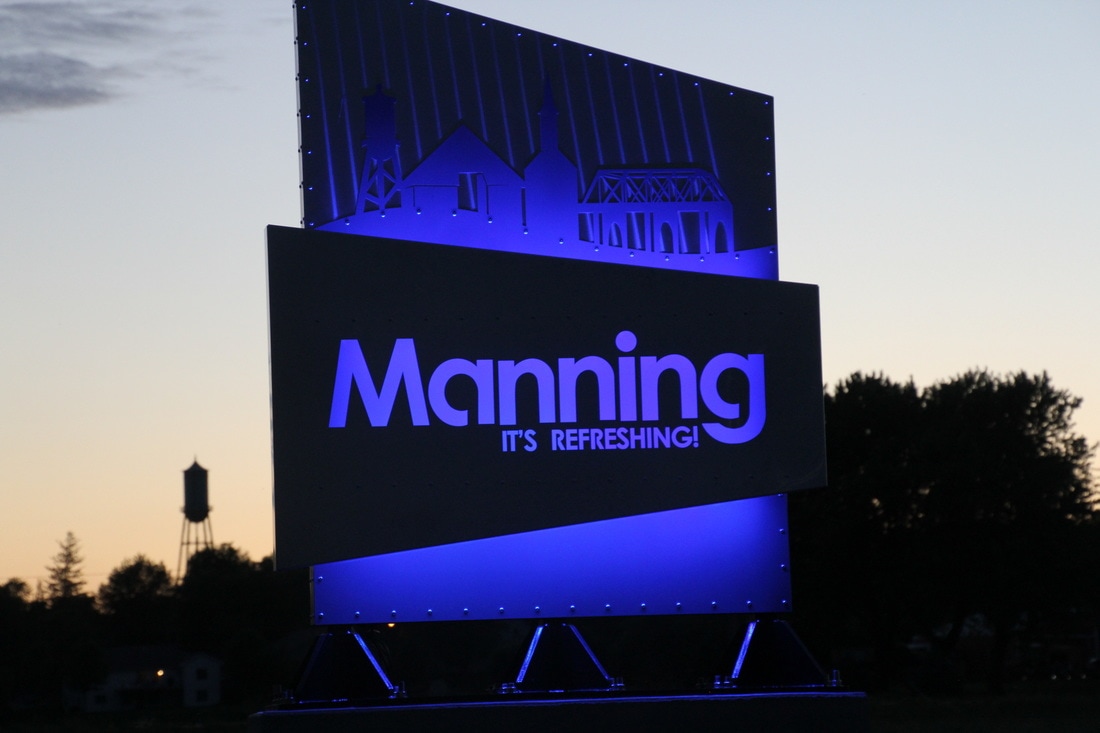 About Manning, Iowa
We are Manning, Iowa and we are a proud progressive community. From the cultivated rows of local agriculture to our brick-lined Main Street, we have a deep-rooted history of thinking ahead, stepping up to the plate, and getting things done…together. We invite you to be our guest…visit…come live...and you'll see why we say, "Manning, Iowa…It's Refreshing.
Manning City Hall
717 3rd Street
Manning, Iowa 51455
​Email: cityofmanning@mmctsu.com
Phone: 712-655-2176
Mayor - Harvey Dales
City Clerk - Dawn Rohe
​Website ​- www.manningia.com
​​​Major Employers
Manning Regional Healthcare Center
IKM-Manning CSD
Aureon
Ag Processing Inc.
Puck Custom Enterprises
Housing Initiatives
Lots available for purchase from City of Manning for $15,000 The buyer gets $7500 rebate back if they start building within a year, finish in 2 and it becomes owner-occupied. More information available on manningia.com.
Back To Top
Population
| Population | 2000 | 2010 | 2020 | 2025 |
| --- | --- | --- | --- | --- |
| Manning | 1,498 | 1,500 | 1,531 | 1,528 |
Source: ESRI, 2020-09-16
Back To Top
Back To Top
Households
| Population | 2000 | 2010 | 2020 | 2025 |
| --- | --- | --- | --- | --- |
| Households | 651 | 653 | 676 | 675 |
| Housing Units | 702 | 719 | 750 | 760 |
| Owner Occupied Units | | | 500 | 501 |
| Renter Occupied Units | | | 176 | 175 |
| Vacant Units | | | 74 | 85 |
Source: ESRI, 2020-09-16
Back To Top
Back To Top
Income
| Manning | 2020 | 2025 |
| --- | --- | --- |
| Median Household | $44,199 | $48,534 |
| Average Household | $65,023 | $71,850 |
| Per Capita | $28,740 | $31,769 |
Source: ESRI, 2020-09-16
Back To Top
Back To Top
Businesses by NAICS
| Category | Number |
| --- | --- |
| Total Businesses | 112 |
| Agr/Forestry/Fish/Hunt Bus | 0 |
| Mining Bus | 0 |
| Utilities Bus | 2 |
| Construction Bus | 3 |
| Manufacturing Bus | 2 |
| Wholesale Trade Bus | 7 |
|   |   |
| Retail Trade Bus | 14 |
| Motor Veh/Parts Dealers Bus | 1 |
| Furn & Home Furnish Str Bus | 1 |
| Electronics & Appl Store Bus | 1 |
| Bldg Matl/Garden Equip Bus | 1 |
| Food & Beverage Stores Bus | 3 |
| Health/Pers Care Stores Bus | 1 |
| Gasoline Stations Bus | 1 |
| Clothing/Accessory Store Bus | 0 |
| Sports/Hobby/Book/Music Bus | 1 |
| General Merchandise Str Bus | 1 |
| Misc Store Retailers Bus | 1 |
| Nonstore Retailers Bus | 2 |
|   |   |
| Transportation/Warehouse Bus | 5 |
| Information Bus | 3 |
|   |   |
| Finance & Insurance Bus | 9 |
| Cntrl Bank/Crdt Intrmdtn Bus | 3 |
| Sec/Cmdty Cntrct/Oth Inv Bus | 2 |
| Insur/Funds/Trusts/Other Bus | 4 |
|   |   |
| Real Estate/Rent/Leasing Bus | 3 |
| Prof/Scientific/Tech Srv Bus | 9 |
| Legal Services Bus | 3 |
| Mgmt of Comp/Enterprises Bus | 2 |
| Admin/Support/Waste Mgmt Bus | 0 |
| Educational Services Bus | 3 |
| HealthCare/Social Assist Bus | 11 |
| Arts/Entertainment/Rec Bus | 4 |
|   |   |
| Accommodation/Food Srvcs Bus | 4 |
| Accommodation Bus | 2 |
| Food Srv/Drinking Places Bus | 2 |
|   |   |
| Other Srv excl Pub Admin Bus | 19 |
| Auto Repair/Maintenance Bus | 5 |
| Public Administration Bus | 10 |
Source: ESRI, 2020-09-16
Back To Top